There are many mascot companies. How do I know who's best?
At Facemakers we've been producing professional mascot costumes for over 45 years, ALL made in the USA. Our client list excedes 25,000 firms. You can view a partial list here, read testimonials from clients, and e-mail us for referrals. Best of all, we GUARANTEE YOUR SATISFACTION upon receipt of your costume.
The internet has provided many choices so it is important to compare apples to apples, to know you are getting quality and value. Ask if the costume company is the maker of the mascots or merely a supermarket of costumes made in other countries. Consider their years of service and the range of services they offer. Compare quality along with price. Are they a real company, or just a website? Check their client list and request referrals so you can determine whether they are reputable, established firms.
Why should I use a mascot?
Whatever product, service, or event you are promoting, the color and excitement provided by a 7-foot, "fantasy-come-to-life" character is irresistable. Children and adults adore them. In today's world, the public is bombarded with a multitude of messages, and it has become increasingly difficult for an organization to stand out from the crowd and be noticed. Mascots provide instant attention, recognition and fun! Mascots automatically put the spotlight on YOUR message, product, or organization.

What is the best way to use our mascot?
The planned, special appearance of your mascot, backed up by media publicity (often provided free by newspapers) is an excellent way to draw extra traffic to a business, grand opening, sale or special event. Our mascot characters make ideal recruits for doing walkarounds, passing out handbills, toys or giveaway items. They have even been used to wear sandwich signs, or can wear oversized clothing imprinted with your message, making them essentially walking billboards. The unique appeal of animal and character costumes makes them the perfect ambassadors of goodwill, attention-getters and crowd-pleasers.

Can I get a custom-made character or make changes to a standard one?
Yes! 90% of our business is custom work. Consequently, we can custom-make anything! There are three basic types of custom-mades -- Exact Logo Reproductions, Product Replicas, and Standard Characters that have been restyled.

Can I get just a mascot Head and not the entire costume?
Yes! Heads, bodies, feet...all costume parts are available as separates. Just contact us for pricing.

Can I get the Head from one mascot on your website and the body from another one?
Yes! We would be happy to switch heads and bodies...even parts of bodies. For example, the head from that Hornet, the wings from another Hornet, the feet from the Pioneer and the jersey from the Hawk. Just tell us what you'd like and we'll calculate the price for you.

Can I get my mascot in our special colors?
Yes! We're happy to make any costume in special colors at NO extra charge.

Are mascots washable?
Most mascots are completely washable in cool water. Facemakers produced a fun mascot training video called, "Mascots 101" which contains all of the cleaning instructions you or your mascot team is likely to ever need on mascot maintenance. The "Mascots 101" video is available only from Facemakers and it's FREE with every mascot.

Can I see a rendering of our custom mascot?
Yes! What's more, if you order your custom-made mascot from Facemakers, the artwork is FREE. Our computer artists can email you a rendering of what your mascot will look like subject to your approval before any fabric is cut. We will not begin production until you are completely satisfied with the proposed design. Once approved, if you wish, we can send you digital updates on your mascot while it's in production to assure that you are pleased with its progress.

How long does it take to get a mascot?
Standard Line costumes leave in just 4 weeks turnaround time. Custom-mades take an additional 2 weeks. For faster turnaround, check out our RUSH SERVICES.

Can the eyes move?
Yes! Eyes can blink, ears can wiggle and mouths or beaks can be made to move. We can and have done every conceivable form of animation. Ask for details on the specific characters you are interested in and we'll tell you if it's workable and the cost. Generally speaking, animation is priced at approximately $250 to $350 per movement.

Are mascots available for rental?
Since most of our costumes are custom-made, we only have a limited number of characters available for rental. Please let us know what you are looking for.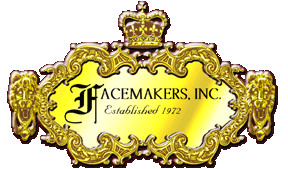 Over 45 years making mascot costumes.