our mascot costume
GUARANTEE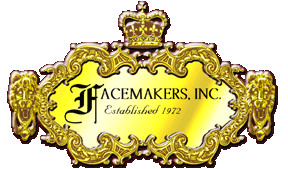 CUSTOMER SUPPORT, 100% SATISFACTION GUARANTEE
Facemakers stands 100% behind our quality and workmanship.
You must be completely satisfied with your mascot costume or
simply return it and we will make the requested changes until
you are satisfied. We know you will be delighted with our mascot
costumes and that's why our guarantee is second to none.
Please Note: Any dissatisfaction MUST be reported to us no later than seven (7) days after receipt of costume.
30 DAY WARRANTY
In addition to our Satisfaction Guarantee, we warranty the labour and materials on your mascot costume for 30 days.
LIFETIME SERVICE AND REPAIRS
We service every mascot costume that we make. At any time, after your 30 day free labour and materials you can send your mascot costume to us for an exact cost quote on cleaning and/or repairs. This cleaning and repair service is available for the LIFE of your mascot costume.
MASCOT TRAINING
We understand that most mascot buyers have never purchased a mascot costume before. As a result, we know our customers need to learn the mascot basics themselves or need a simple way to train their mascot-wearer. As a feature of our commitment to Customer Support, Facemakers has invested in the production of an exclusive mascot training video: "Mascots 101." In less than 45 minutes you or your staff will learn the "do's" and "don'ts" of mascot wearing, suiting up, cleaning, storage and more! Facemakers is the ONLY mascot-maker in the industry offering this unique mascot training video.
Feel secure

about your Facemakers mascot costume purchase