​ABOUT​
US
​
Since its Chicago inception in 1972, Facemakers has grown to become the number one source for mascot costumes worldwide. Over 1000 pre-designed characters can be ordered as presented or restyled in your special colors at no extra charge.
Facemakers exclusive methods of durable, lightweight and cooler construction developed for mascot characters such as the Keebler Elf, Tony the Tiger, Smokey Bear and Woodsy Owl have earned an international reputation for quality and reliability in mascot costume-making.
Our clients include Disney, The White House, and your local high school or university. Read our letter from The White House and other testimonials.
Our Custom-made Department creates corporate and one-of-a-kind school mascot costumes daily. We can duplicate any logo or artwork that you have in the form of a fantasy-come-to-life mascot character. If you don't have artwork, not a problem, our artists can do it for you. Just e-mail us your mascot request, artwork or photo image for a free quotation within 24 hours.
Over 50 years in mascots.
​

F

ACEMAKERS, INC.
High quality mascots

made in USA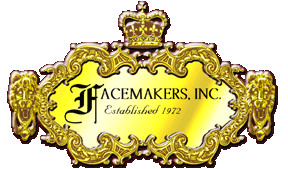 Over 55

,000 square feet of mascot manufacturing, office, research and mascot development space at:




Facemakers, Inc.,

800 Chicago Ave., Savanna, IL 61074
AND our newest, 115 N Main Street, Savanna, IL 61074.


815-273-3944

facemakers@aol.com