Making mascot costumes for
Disney, The White House,
and your local High School
or University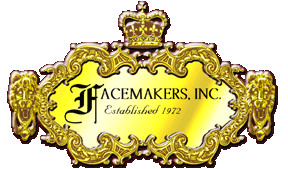 Your size. Your colors.
Restyled your way.
MASCOT COSTUMES
TIDES & WAVES
TIDES AND WAVES MASCOT COSTUMES
TIDES AND WAVES mascot costume is shown with a high quality fabric costume of soft construction. The tides or waves mascot is shaped with polyfoam with outer plush and shag fur acrylic fabric covering, and fabric lined for durability and easy entry. The face has angry eyebrows and teeth, OR choose the lovable expression shown on the green and blue version. It comes with pants, gloves, and optional extras are the giant character tennis shoes with rubber soles for $299 pr. Vision is through one-way screening in the features and forehead. Keep in mind, we can provide many different colors and styles of tides and waves mascot costumes. Facemakers, Inc., is the manufacturer of these tides and waves mascot costumes not merely a supermarketer of costumes. That's important because it means our mascot costumes can be done in YOUR color choice at no extra charge. We can also restyle the expression of the mascot face, or mix and match elements of this costume style with various of our other mascot costumes until you have the exact tides and waves mascot uniform that you desire. Please ask about any options that you would like to see on YOUR tides and waves mascot suit. Cooling systems and bags to protect your investment are available for all mascot outfits. Facemakers has been making mascots your way in the USA for over 50 years.
​
​