Making mascot costumes for
Disney, The White House,
and your local High School
or University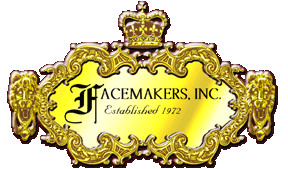 FACEMAKERS masco

ts
our

HISTORY
A Werewolf and a Frog start a company.
FACEMAKERS founder, Alan St. George, made his first mascot: A frog. He wore it on the rainy streets of Chicago, April 21, 1972, to advertise a new movie called Frogs starring Ray Milland.
How does that come about for a student attending The Chicago Academy of Fine Arts? Good question! On March 9, 1972, at midnight he entered a costume contest at downtown Chicago's Oriental Theatre promoting Tales From the Crypt. Alan arrived in a rubber prosthetic Werewolf make-up he created. The newspaper coverage in The Chicago Daily News caught the attention of the Promotions Director at AIP resulting in the frog stunt...and a company is born.
A move to Savanna, IL
Newlyweds, Alan and Adrianne St. George move to a turn-of-the-century home on a wooded hill in rural Illinois.
They would spend decades together building the company and expanding the home.
FACEMAKERS made the first Summer Olympic Games Mascot
The first major mascot of the Summer Olympic Games was Misha Bear in the 1980 Summer Olympics in Moscow.
Here the finished Facemakers mascot costume holds the toy
replica he was modeled after.
About this time, Alan makes
the first Ferocious Lions for the
Chicago Bar Association.
Acquisition of a 40,000 square foot building
Facemakers had grown to the point where more space was badly needed. A three-story former school in Savanna, IL came onto the real estate market and proved to be the perfect solution.
We continue to serve customers worldwide
After more than 40 years in the mascot business, Facemakers has the experience, the staff, and the facilities to make the quality, made in USA mascot of your dreams!