Making mascot costumes for
Disney, The White House,
and your local High School
or University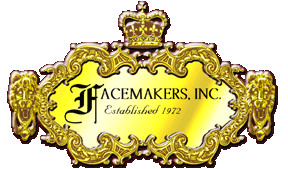 Your size. Your colors.
Restyled your way.
SPARTAN, TROJAN, WARRIOR ROMAN SOLDIER MASCOT COSTUMES for your school team
BREASTPLATES
MASCOT COSTUME BREASTPLATES FOR SPARTAN, SOLDIER, TROJAN, WARRIOR
SPARTAN/TROJAN BREASTPLATES for your mascot costume
All of our "BHM" Roman breastplates are hard-molded, durable Spartan/Trojan mascot breastplates and made of a tough, luggage-grade, heavy gauge plastic material that is weatherproof and of maxium durability. These Trojan/Spartan mascot costume breastplates will enhance your mascot for years to come. Keep in mind, we can provide many different colors to coordinate with your school team logo colors. Facemakers, Inc., can even LETTER the plain surface of the #BHM-23 Plain Hard Breastplate. That's important because it means your mascot costume armour breastplate can be done in YOUR color choice with your school letter or monogram on it.
We also offer a soft economy version Spartan/Trojan breastplate. Order #B-SM20