Making mascot costumes for
Disney, The White House,
and your local High School
or University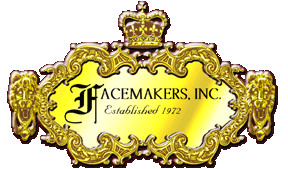 Your size. Your colors.
Restyled your way.
GAY

MASCOTS
for

GAY GAMES

CHICAGO
GAY MASCOT COSTUMES made for the 2006 Gay Games (Gay Games VII), commonly called the Chicago Gaymes.
The Chicago Gaymes was part of a family of international sports and cultural festivals called Gay Games, sanctioned by the Federation of Gay Games and organized by the GLBTQ community of the host city of Chicago, Illinois in the United States. The competition took place July 15– July 22, 2006. The official Gay Games VII slogan was "Where the World Meets."
Actual athletic events were played in venues scattered throughout Chicago and its suburbs, all participating in the Gay Games through special votes in their respective town or village councils. Cultural events included concerts and performances by Cyndi Lauper, Margaret Cho, Megan Mullally, and others. Contemporary artists also provided exhibitions as part of the Gay Games.
FACEMAKERS made the first Summer Olympic Games Mascot (1980)
The first major mascot of the Summer Olympic Games was Misha in the 1980 Summer Olympics in Moscow.
He was made by Facemakers of
Savanna, IL USA. He holds the toy
replica he was modeled after.
Facemakers, Inc., is the manufacturer of these mascot costumes not merely a supermarketer of costumes. That's important because it means they can be done in YOUR color choice at no extra charge. We can also restyle the expressions of the mascot head, or mix and match this head with body part styles from various of our other costumes until you have the exact mascot uniform that you desire. Please ask about any options that you would like to see on YOUR mascot suit. For example, we can add a jersey to match your team logo colors, complete with your letters or logo imprinting. Cooling systems and cases are available for all outfits. Facemakers has been making mascots your way in the USA for over 40 years. Contact us to create a character or item to promote YOUR business or organization and spread your message.